Note: The links marked with an asterisk (*) are so-called affiliate links. If you click on such an affiliate link and buy through this link, I get a commission from the respective provider. For you the price does not change.
You want to buy the WordPress Divi Theme?
In the following blog article, I will explain in detail what the WordPress Divi Theme is, what possibilities Divi offers, what advantages and disadvantages the theme has and where you can buy the Divi Theme with a discount.
Let's go!
What exactly is the WordPress Divi Theme?
The WordPress Divi Theme is a premium WordPress theme provided by Elegant Themes.
Divi is a so-called multipurpose theme. That means that with Divi you can create websites for any purpose and all possible industries. So, you are completely free in designing YOUR individual website.
Thanks to the so-called Divi Page Builder you can design your website directly in your browser, which makes it very easy to build your own professional website even as an absolute beginner – without any programming knowledge.
However, Divi is not a Theme just for beginners … Professional web designers and agencies also rely on Divi as a professional WordPress Theme.
I, myself use Divi daily in my job as a web designer and in all my customer projects. Why? Because it not only saves me a lot of development work, but it is also very easy to handle for my customers, who are usually far from being web professionals.
Who is the WordPress Divi Theme suitable for?
The Divi theme is right for you if you:
want to create your own website according to your own ideas, but you have no programming skills,
enjoy customizing the colors, fonts and features of your website yourself and try around until you like the look of your website,
you want to build your website visually in your browser and you are therefore looking for a professional theme with an intuitive page builder (click here if you want to test the Divi Page Builder),
you want to turn your website into an online shop where you can sell your own products
plan to use your theme for multiple websites (e.g. as a web designer or agency for different customer projects)
you want to pay for your theme once instead of paying annually.
But which possibilities does the WordPress Divi Theme offer you in detail? You will learn about this in the next section.
Which possibilities does the Divi Theme offer?
Divi is an incredibly powerful toolbox, with countless features.
Below you find a list of the most useful features that make Divi the great theme it is:
1. Professional web design without any programming knowledge
With Divi you can easily design your website in your browser.
You can customize the fonts, colors, spacing, backgrounds and much more effortlessly using the relevant input fields or sliders.
You can copy and move modules as you like – all of that without any programming knowledge!
New: Divi 4.0 and the Divi Theme Builder
Prior to Divi 4.0 it had already been possible to design your content area (the part between header and footer) with the Divi Page Builder, but if you wanted to customize dynamic pages like category pages or product detail pages, it was only possible by using individual code customizations.
With Divi 4.0, Elegant Themes has gone a step further extending the Divi theme by the so-called theme builder.
With the Divi Theme Builder you can now design custom headers and footers as well as creating your own templates for dynamic pages like post pages, category pages, store pages, search results pages and 404 pages.
2. Responsive web design with an integrated grid system
Thanks to the integrated grid system with 23 predefined grid variants, you can create page layouts in no time, and you don't have to worry about your layouts being displayed correctly on mobile devices.
All columns wrap automatically on mobile devices, so your website looks great on smartphones and tablets, too!
3. Extensive range of modules

Thanks to the 38 pre-built modules, you can do without most additional WordPress plugins.
From accordions, slideshows and contact forms to videos and parallax effects, Divi has everything a web designer's heart desires.
4. Own web shop with Divi? WooHoo!!!
With the WordPress Divi theme you can even create your own web shop.
All you have to do is to install the free WooCommerce plugin and you're ready to go.
WooCommerce seamlessly integrates with your existing theme, so your store will be perceived as one cohesive web presence.
Thanks to the integrated Divi shop module, you can present your products on any page. Like this you can place your offer right on your home page or on a separate store page.
It's entirely up to you!
5. Extensions with own code are possible
In case the possibilities that Divi offers are still not enough for you, you can always extend it with your own code.
Like this, there are almost no limits set to your design!
With its various additional features, the WordPress Divi theme improves your web design workflow and makes your daily work on your website much easier!
6. Divi library
With Divi, you can store your finished modules and elements in a central library and reuse them as you continue to build your website.
7. Back and forward function
You made a mistake while editing? No problem!
With the "Back" function (CTRL-Z) you can quickly undo editing steps – just like in Word!
You have changed your mind? No problem either!
Simply jump forward again step by step in the editing process with the forward function (CTRL-Y).
8. Global elements – It's getting green!
It is possible to turn any Divi element into a global element. Such a global element can be edited centrally and then automatically synchronizes everywhere it is integrated on your website.
This function is great if you use a section on each subpage of your website and just want to quickly change a line of text, for example.
Without the global function, you would have to edit each subpage individually, which would be enormously time-consuming.
With a global element, however, you edit just once, and the changes are applied to all subpages.
As soon as an element in the library is saved as a global element, the color of the element changes to light green.
This way you always know that you are editing a global element that may change on other pages as well.
Using Divi layouts as a basis for building your website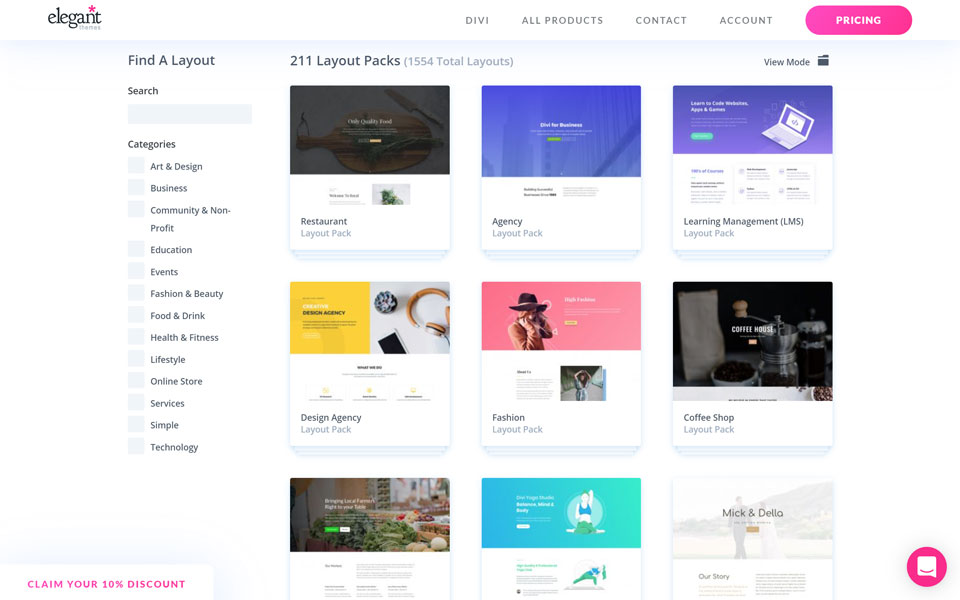 When you build your website with the Divi theme, you don't have to start from scratch.
As a basis, you can use one of the currently 211 pre-built Divi layout templates* and customize them with the visual page builder according to your wishes and ideas.
This can save you a lot of time when building your website!
Especially as a beginner, it can be very useful to start with a Divi Layout Pack, as you don't have to create the design from scratch. Moreover, the Divi layouts are already optimized for mobile devices, so you don't have to worry about that as well.
There are Divi Layouts for a wide range of industries, such as:
Artists, designers & agencies
Architects
Lawyers
Authors
Coaches
Jewelers
Clubs
Makeup artists
Hairdressers
Yoga studios
Fashion studios
Florists
Photographers
and many more …
Installing a Divi layout
All Divi layouts can be installed on your website with one click directly via Divi.
With the visual page builder you can then customize the layout content to your needs, change text and images, add or remove sections and change the order of modules.
There are no limits set to your imagination!
Does the WordPress Divi theme have any disadvantages?
Like any system, Divi has some albeit few limitations that you should know before buying the theme:
1. Extensive but learning intensive system
Divi has a lot of features. This is great because it makes the system very flexible but due to its extensive features it of course also takes a while to learn the system.
Although you can build your website with Divi without any programming knowledge, you still have to invest some time and patience to understand how Divi works.
2. Many features equal a lot of code
Due to the numerous modules and features, the WordPress Divi theme is relatively code-heavy and accordingly a bit slower than other themes or page builders.
However, Elegant Themes is constantly working on improving the performance of Divi.
Moreover, the website speed can be additionally improved by caching plugins or a fast web hosting (loading speeds of less than 1 second are possible with Divi, too).
In terms of SEO, I have also never had any problems with Divi so far.
It is absolutely possible to make a Divi page rank at position 1 on Google
3. Partly missing or incorrect translations
Basically, Divi is available in languages different from English but in some parts the theme is not translated (correctly) into other languages.
Most of the time this should not bother you but if it does, you can edit the language file and correct the translations for your project using the plugin Loco Translate.
4. Once Divi, always Divi
If you are done creating your website with Divi, you can't just change the theme afterwards, because Divi uses its own modules and elements, which are restricted to Divi and are not compatible with other themes.
If you would change the theme, your website would be unusable afterwards.
I, myself never wanted to switch to another theme anymore after I started using Divi. So, this has never been a problem for me.
For somebody else, however, this could be an unfavorable restriction. That's why I mention it here.
Where and how can I buy the WordPress Divi Theme?
The Divi theme is only available through an Elegant Themes membership*. You purchase a license (yearly or lifetime) and then you get access to your account that includes the entire family of themes and plugins, including Divi.
How much does the WordPress Divi theme cost?
As just said, there are two different accesses:
1. Yearly Access
The yearly access is especially suitable for Divi beginners, who want to get to know Divi first and test it, without spending a lot of money right from the beginning.
With currently 89,00 $ per year you get a lot for your money.
You can not only use Divi and EXTRA, but also plugins like the social sharing plugin Monarch or the newsletter plugin Bloom.
These are very helpful additions – especially if you run a blog.
Moreover, all themes and plugins can be used on an unlimited number of websites – even for your customer projects.
And … all updates as well as the access to the Premium Support are included for the duration of your membership.
2. Lifetime Access
If you already know that you want to use Divi for a longer time period, you should definitely choose Lifetime Access.
The advantage: For a one-time fee of currently $249.00 you get lifetime access to Divi and all other themes and plugins, including all updates and lifetime support.
This access is worthwhile compared to the annual access from the third year and is therefore interesting for anyone who wants to use Divi in the long term.
License for an unlimited number of websites
With your membership at Elegant Themes you can use Divi on an unlimited number of websites for the whole duration of your membership.
That means you just have to buy the Divi theme once and you can build as many websites as you want with this license.
Furthermore, the theme updates and all new features in the future are included for all your Divi websites.
This is a huge advantage compared to other themes, such as Elementor, where you usually have to pay annually for new updates.
From this point of view, the lifetime access is especially worthwhile.
30-day return policy (without giving any reasons)
In case you bought Divi and for any reasons you realize that you don't like it at all, you can get your money back within the first 30 days – without giving any reasons!
Just write an email to mailto:support@elegantthemes.com and explain that you want your money back.
That's it!
Payment options
To process their payments Elegant Themes uses PayPal, Stripe.com or Authorize.net. Payment options differ depending on the country from which you make your purchase. For German and Austrian customers, for example, the only payment options available at the moment are credit card payment with Mastercard, Visa or American Express. Swiss customers, for example, can also pay via Paypal. So you have to check which payment option is available for your country.
And this is how easy it is to buy the Divi Theme
Step 1: Go to the Elegant Themes website* and select your desired membership (Yearly Access or Lifetime Access) by clicking the "Sign Up Today!" button.
Step 2: Enter your personal information.
Choose a username and set a password.
With your username and password, you are logging in to your member area at Elegant Themes later and download the Divi theme there.
In the country of residence section, select your country.
Note: For customers from Germany and Austria the value added tax (VAT) will be charged additionally. For Germany these are currently 19%, for Austria 20%. So don't be surprised if the price increases after selecting the country. If you have a VAT ID, you can enter it in the VAT Number field (optional). Then you will not be charged sales tax. As an entrepreneur you can get the VAT back from the tax office later.
Finally enter your credit card details (alternatively your Paypal email address if you are from Switzerland for example) and click on the "Complete Registration" button.
That's it!
If everything worked out fine, you will receive a confirmation by email.
Now you can login to the Elegant Themes member area with your username and password and download Divi.
Divi Theme discount and Elegant Themes promotions
If you wait for an opportune time, you can really save on your Divi purchase!
Every one or two months, Elegant Themes releases so-called feature updates, which are advertised with a standard 10% discount.
That's why it's worth to check every now and then if Elegant Themes is offering a discount again. If that's not the case, it might be a good idea to postpone the purchase for a few days or weeks.
On Black Friday and during Cyber Monday week the purchase of the WordPress Divi Theme is really worthwhile!
During these days you can save up to 25%. Speaking of the lifetime access that makes a discount of around 59,00$.
Next Black Friday: November 25, 2022
Next Cyber Monday: November 28, 2022
Savings tip:
If you don't want to wait until the next promotion, you can get a 20% discount using the following link!
Get 10% Divi discount now*
FAQ – Frequently Asked Questions
What is the WordPress Divi Theme?
The WordPress Divi Theme is a premium WordPress Theme by the American provider Elegant Themes. With the Divi Theme you can create websites for all kinds of industries without any programming knowledge.
What does the WordPress Divi Theme do?
The WordPress Divi Theme turns your WordPress website into a website builder. This makes it possible to edit the layout and design of your website (including colors, fonts, buttons, etc.) without any programming knowledge.
What is the Divi Builder?
The Divi Builder is a so-called page builder, a kind of construction kit for your WordPress website, with which you can build websites by drag and drop. The Divi Builder is an integral part of the Divi Theme.
How much does the WordPress Divi Theme cost?
With an annual license, the Divi Theme costs $89.00 per year, with a lifetime license it costs $249.00 once.
Can I buy the WordPress Divi Theme with Paypal?
For Germany and Austria currently there is only credit card payment available. For some other countries like Switzerland, for example, the payment via Paypal is possible, too.
Is the WordPress Divi Theme worth it?
If you want to build your website without any programming knowledge, the Divi Theme is absolutely worthwhile. The best price-performance ratio is achieved if you buy Divi with a discount or during a Divi promotion like Black Friday or Cyber Monday.
Buying the Divi Theme – Conclusion
If you want to buy the WordPress Divi Theme … you can't really go wrong with it. There is a reason why Divi is one of the most popular WordPress themes out there.
Thanks to the integrated page builder as well as the numerous functions and features, it is possible  – even for beginners – to create professional websites, blogs and web shops in no time.
For those who aren't sure yet if they want to use the Divi theme for a long time and therefore want to get to know the WordPress Divi Theme a bit better first, there is the possibility of starting with an annual Elegant Themes subscription.
Elegant Themes will even refund your money in the first 30 days after buying the theme in case you tested it but don't like the theme at all.
So … you have no risk to buy a pig in a poke.
I hope I could provide you with some helpful information about buying the WordPress Divi Theme. If you have any further questions, just let me know in the comments.